The Archbishops of Canterbury and York have agreed to the suspension of church services until further notice.  This means that there will be some important changes at St. Mary's.
The situation is changing rapidly and we have now been informed that we may not open the Church for private prayer.  So as of today 23rd March we will just be streaming our services via Facebook Live.
These services will be Morning Prayer at 9am and Evening Prayer at 4pm on weekdays.
On Thursday we will have a Holy Communion Service at 10am and on Sunday a Holy Communion at 11am.
These will be "minimal" services, streamed through our Facebook page.  A link to this can be found in the footer of our website.  Streamed services should be saved to the Facebook page, so they could be viewed after the event for those who miss them live.
In addition if you have prayer requests please email them to [email protected] 
We hope to return to our normal pattern of worship soon.
TEMPORARILY SUSPENDED NORMAL PATTERN OF SERVICES
At 10 am on Sunday we hold a Family Service  which is less formal, aimed at families, children and those who prefer this style of worship.  On the 1st Sunday of the month it's a Family Eucharist Service.
Our service at 11.00 am on Sunday  is a formal Family Eucharist, the majority of the time with a robed Choir.
The Pew Sheet is distributed at both Sunday services – with any leftover being 'recycled' to the following Thursday.
Click on the photo of the Cross on the window sill behind the altar which will take you to the Service Sheet for our Family Service.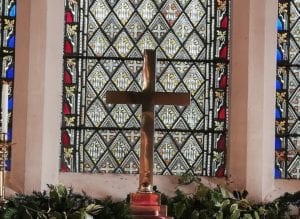 TEMPORARILY SUSPENDED ALSO ARE THE FOLLOWING SERVICES AND ACTIVITIES
We meet on Monday and Thursday at 9 am for Morning Prayer, and at 4 pm for Evening Prayer. These are quiet and reflective services to start and finish the day.  The Evening Prayer services were not held over the Winter months but with Spring arriving they are not taking place again.
On Thursday at 10 am there is a service of Holy Communion.
Community Coffee Morning
On Thursday morning, from 10.30am there is a coffee morning in the Church Hall open to everyone. There will be tea, coffee and biscuits – sometimes cake.  This is a community event and we'll aim to develop this with guest speakers and visitors over the next few months.