Now, in April 2021 with the easing of lockdown restrictions, we are able to hold services once again in our Church building but will continue to put our services online for those who for whatever reason are unable to attend in person.  Please see our Facebook page or contact us for details of online services.  Links to our Facebook page can be found at the bottom of this page.
Our regular service until further notice will be a Parish Eucharist at 10.30 am on Sunday.  Our Covid-secure capacity is restricted so please let us know if you would like to attend.
At 9am on Monday and Thursday there will be a service of Morning Prayer online.  We hope to resume these services in Church shortly and also reinstate a midweek Eucharist at 10am on Thursday morning.  Watch this space!
The Normal Pattern of Services which we held in 'normal', pre-Covid 19 times are mentioned below.
TEMPORARILY SUSPENDED NORMAL PATTERN OF SERVICES
At 10 am on Sunday we hold a Family Service  which is less formal, aimed at families, children and those who prefer this style of worship.  On the 1st Sunday of the month it's a Family Eucharist Service.
Our service at 11.00 am on Sunday  is a formal Family Eucharist, the majority of the time with a robed Choir.
The Pew Sheet is distributed at both Sunday services – with any leftover being 'recycled' to the following Thursday.
Click on the photo of the Cross on the window sill behind the altar which will take you to the Service Sheet for our Family Service.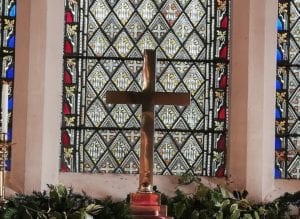 TEMPORARILY SUSPENDED COMMUNITY ACTIVITY
Community Coffee Morning
On Thursday morning, from 10.30am there is a coffee morning in the Church Hall open to everyone. There will be tea, coffee and biscuits – sometimes cake.  This is a community event and we'll aim to develop this with guest speakers and visitors over the next few months.